P E at St Adrian's – Overview
The 2014 national curriculum for Physical Education aims to ensure that all pupils:
study a high-quality physical education curriculum that inspires all pupils to succeed and excel in competitive sport and other physically-demanding activities. It should provide opportunities for pupils to become physically confident in a way which supports their health and fitness.
Opportunities to compete in sport and other activities, build character and help to embed values such as fairness and respect.
Intent
At St Adrian's we will strive to ensure that all pupils:
develop competence to excel in a broad range of physical activities;
are physically active for sustained periods of time;
engage in competitive sports and activities;
lead healthy, active lives.
Implementation
Physical Education is taught under several different areas in EYFS and as a separate, time-tabled subject in key stages 1 and 2.
EYFS-
Children in EYFS are physically active for at least 3 hours per day and as well as fully addressing the EYFS Prime area of Physical Development, this activity will also support progress in the other two prime areas ( Personal, Social and Emotional Development; and  Communication and Language). The Early Years curriculum is designed and  implemented by the Early Years staff so that it best suits the needs of their learners. The school's specialist P E teacher is also able to offer input where necessary.
Key Stages 1 and 2
In Key stages 1 and 2, pupils have 2 hour's timetabled P E each week. This is delivered in two discrete lessons which are delivered by the class teacher unless a specialist coach is taking the lesson – during swimming lessons, for example.
Impact
In summary, the broad and balanced PE curriculum at St Adrian's contributes to our proudest achievement – healthy, rounded and enthusiastic pupils who are well-prepared for the next stages in life's journey.
X- Curricular and Cohesion
PE is taught via a spiral curriculum and as such, many topics/sports are revisited but there will be a emphasis on garnering new skills and honing and consolidating those previously taught.  Typically, sports topics are taught with the weather and the national sporting calendar in mind. For instance football  will typically be taught in the colder months ( as will gymnastics – which is taught indoors) whereas athletics and Kwik Cricket will be taught in the summer months.  
Teachers will endeaver to couple the PE topics with other curriculum subjects – for instance, in year 5, pupils will learn how to jive (dance) in PE whilst learning about life on the Home Front   during World War 2 (History) and reading Carrie's War (English)
Below is a link to the P E National Curriculum Document.
http://ssets.publishing.service.gov.uk/government/uploads/system/uploads/attachment_data/file/239040/PRIMARY_national_curriculum_-_Physical_education.pdf
PE The Year 1 Learner
PE The Year 2 Learner
PE The Year 3 Learner
PE The Year 4 Learner
PE The Year 5 Learner
PE The Year 6 Learner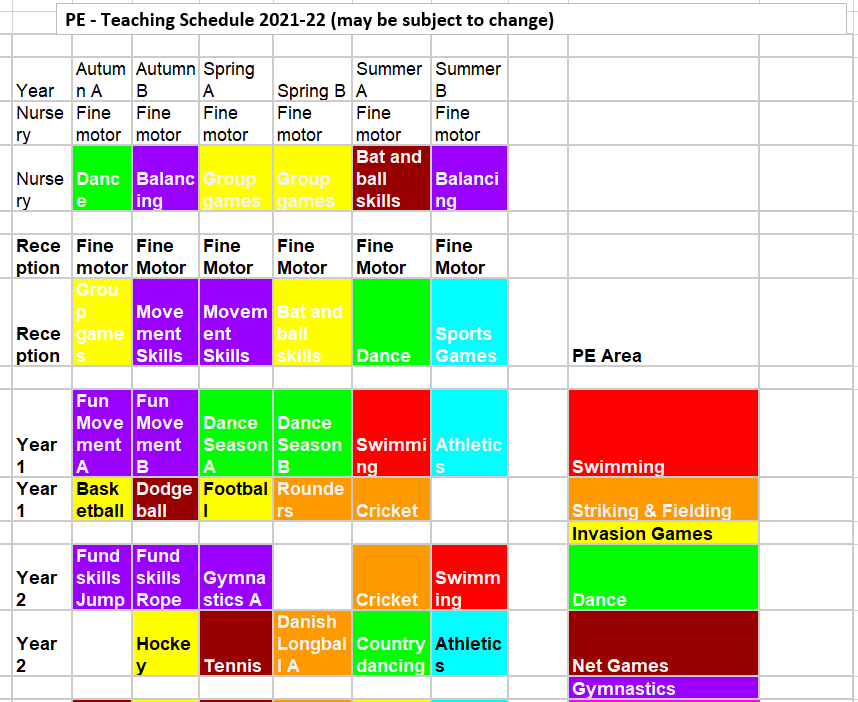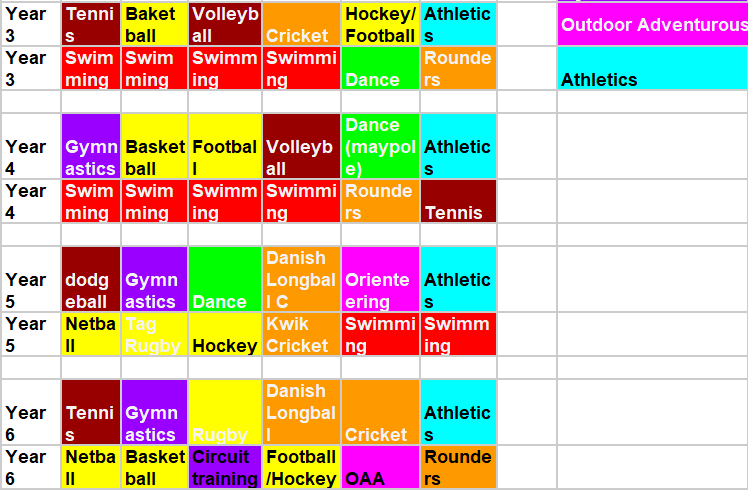 Progression of Skills in P E