I really enjoyed the Mercy Mass picnic this afternoon. The children were so excited this morning and thoroughly embraced being part of the school community. It was fantastic to see that so many of you were able to join us.
This week in Reception we've been focusing on learning behaviours and developing the language of 'how I am learning'.  The three main characteristics of learning taught in early years are:
Playing and exploring – children investigate and experience things and "have a go".
Active learning – children concentrate and keep on trying if they encounter difficulties and enjoy their achievements.
Creativity and thinking critically – children have and develop their own ideas and make links between ideas, and develop strategies for doing things.
Our learning super heroes help us talk about how we are learning:
Encouraging and praising your child at home will really support their attitude to learning in the future. Comments such as 'I like the way you had a go', 'Fantastic to see you keep on trying', 'That's a great idea, let's see if your plan works'. An opportunity for a magic moment or Tapestry entry!
You may also be interested in this lovely book we have been reading in class "It's ok to make mistakes" by Todd Parr.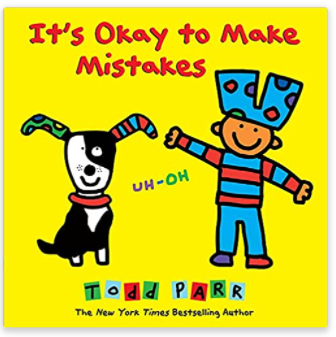 Todd Parr embraces life's happy accidents and has a passion for making readers feel good about themselves, encouraging them to try new things, experiment, and dare to explore new paths.
Wishing you all a wonderful weekend and looking forward to welcoming the children back to school on Monday.
Nicola Palmer