Monday 5th September 2022- Mission Statement
Today, we welcomed everyone back and thought about new beginnings. A chance to turn over a new leaf and to follow in the footsteps of Christ. Our Mission Statement – To Learn, to love , to live as community of God with Christ as our teacher' was discussed and we talked about how we can live out our mission statement.
Monday 12th September 2022- Remembering Her Majesty the Queen
Today we remembered Her Majesty the Queen and thanked God for all that she had done. We prayed for King Charles as the new monarch.
Monday 26th September 2022 – Reading from Timothy
In this reading we talked about faith and how important it is to have faith. We also talked about how many of Jesus' miracles occured when the person had a great faith.
Monday 3rd October 2022- Praying the Rosary
In this assembly, we learnt about praying the Rosary. The children joined together to say a decade of the Rosary.
Monday 10th October 2022- The Story of the Ten Lepers
In today's assembly, we reflected on the story of the Ten lepers. We learnt about how Jesus always helped the outcasts of society and that he didn't aim to help those who were already doing good. He purposely helped those who needed it. We thought about why only 1 leper returned and prayed that we can be like that leper and always be truly thankful for what we have.
Monday 17th October 2022- Year 6 Class Assembly
Year 6 led the assembly today with a focus on Black History Month and Mary Seacole and her work. They also echoed the message about helping one another and taking care of each other through little acts of kindness.
Monday 31st October 2022- All Saints Day and All Souls Day
Today, we learnt about special and important saints. We also thought about how we can be a saint and follow in their footsteps. We thought about those souls who have passed and we prayed for any people we know who had died.
Friday 11th November 2022 – Remembrance and prayers for the dead.
Today, marks the anniversary of the end of WW1. Soldiers who fought and died were in our prayers today. We listened to the Chaplaincy Team as they told us all about why we wear poppies and what the tomb of the unknown warrior is. We also prayed for peace and the children sang a beautiful rendition of ' Fields of Poppies' and sand ' I Wish for Peace'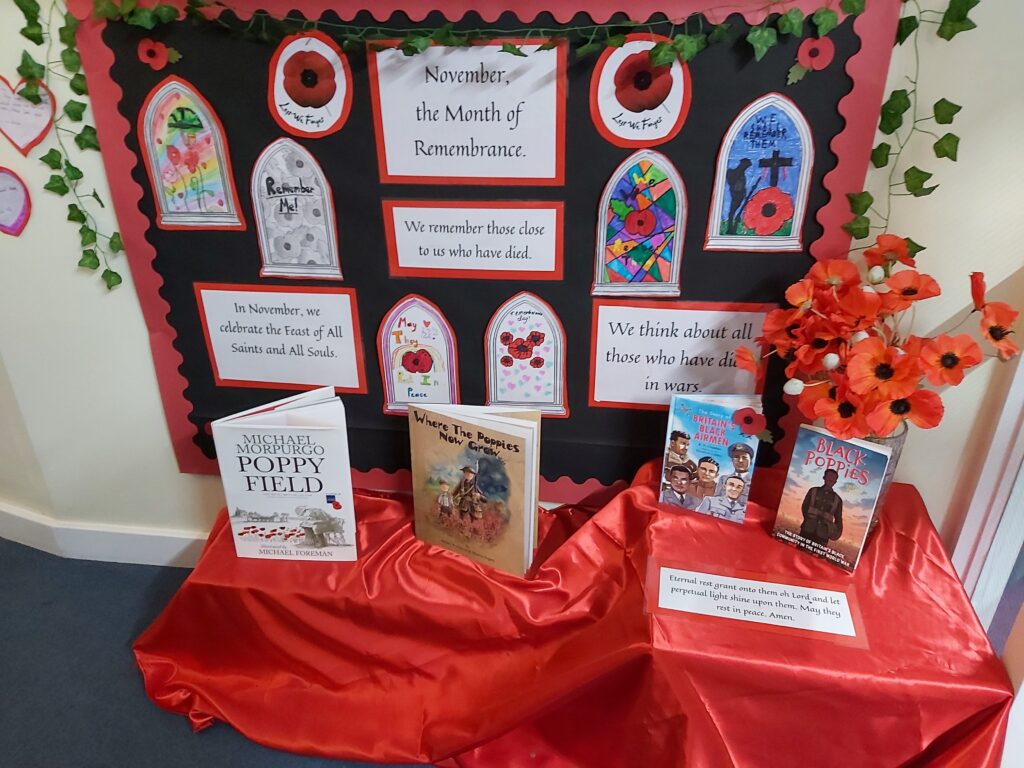 Monday 21st November – Year 5 Class Assembly
Today, Year 5 led our assembly with many thought provoking messages. There was a key message that we were all made in God's image and that we were all different but yet should act as one. We listened about the difficulties faced by black people when the Year 5 shared their learning from the book 'Hidden Figures' . We also learnt about the sacrifice that Maximilian Kolbe made and how he saved many people during WW2. Finally, they taught us about climate change and how we can play our part.
Friday 25th November – Dressing of the Tree and Advent Service
Our first ever Dressing of the Tree assembly took place this Friday. The children listened to the story of creation and the Christmas story in preparation for Advent. The children from the Chaplaincy Team and representatives from each class dressed the tree ready to begin the season of Advent. We reflected on our Advent promises and thought about how we can prepare for Christmas.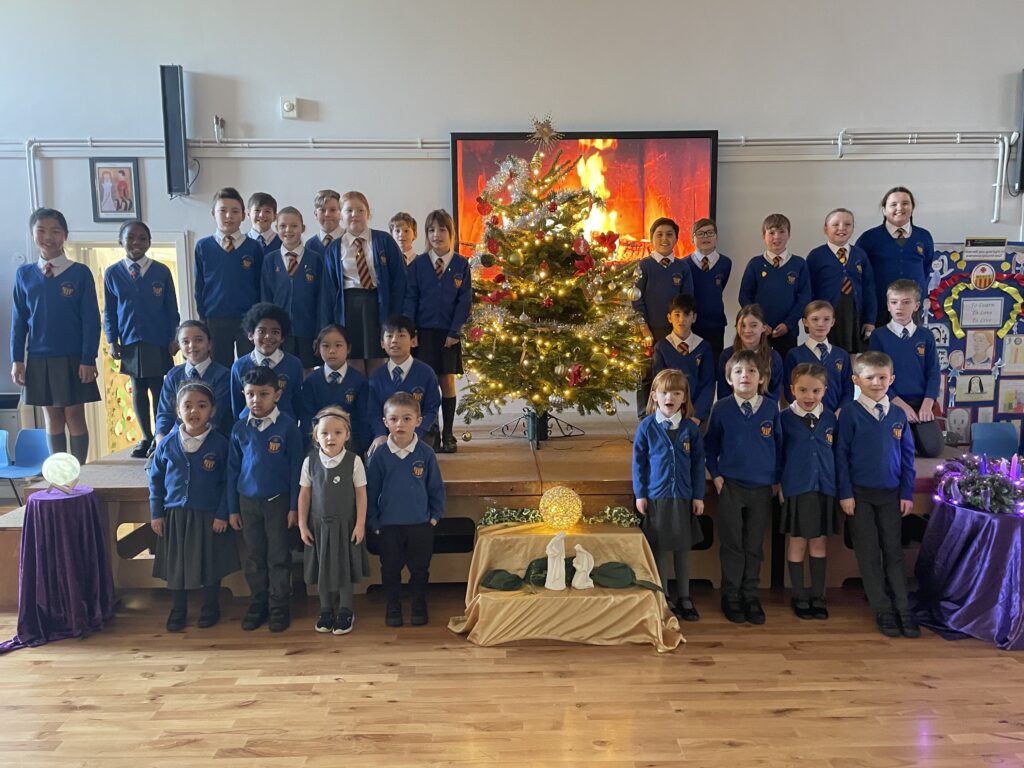 Monday 28th November – 1st Sunday of Advent
In this assembly we thought about our Advent promises and how we can prepae for Christ's coming. The first candle symbolizes hope and is called the "Prophet's Candle." The prophets of the Old Testament, especially Isaiah, waited in hope for the Messiah's arrival. The purple color symbolizes royalty, repentance, and fasting.
Monday 5th December – 2nd Sunday of Advent
In this assembly, we thought about the second candle. The second candle represents faith and is called "Bethlehem's Candle." Micah had foretold that the Messiah would be born in Bethlehem, which is also the birthplace of King David. The second candle is also purple to symbolize preparation for the coming king.
Monday 12th December – 3rd Sunday of Advent
In this assembly we lit the pink candle. We thought about the joy that Mary had. The third candle symbolizes joy and is called the "Shepherd's Candle." To the shepherd's great joy, the angels announced that Jesus came for humble, unimportant people like them, too. In liturgy, the colour rose signifies joy. This candle is coloured pink to represent joyfulness and rejoicing.
Wednesday 21st December- Final Christmas Assembly
In this assembly, we placed the baby Jesus in the manger and we lit the final 2 candle to think about his birth.
Friday 6th January 2023- The Feast of the Epiphany
Children from Year 3-6 visited St Bartholomew's Church and we joined the congregation in the Feats of the Epiphany. EYFS and KS1 had their own special service in school.
Monday 9th January – The Feast of St Adrian of Canterbury
We reflected on our school saint St Adrian and thought about his work as a teacher. We thought about all the saints and what they do and how they set and example to us.
Monday 16th January – The Feast of the Baptism of Christ
In this assembly, we reflected on the special job of John the Baptist as a prophet leading the way for Jesus. We listed to the story of Christ's baptism and understood his role in Jesus' mission.
Monday 23rd January – Year 4 Class assembly
In their presentation assembly, Year 4 shared all their wonderful learning about the Romans and St Alban, they also shared their knowledge about states of matter and shared their fantastic gymnastic talents. The finished the assembly with 'Sing From Your Heart! All about being strong and being part of a community.
Thursday 2nd February – Racial Justice Sunday
On Sunday 5th February, Racial Justice Sunday will take place. The Chaplaincy Team led our assembly thinking about what it means to be fair and just and how we should treat everyone with kindness. We talked about us all being part of the human race and we are all united! We also sang a lovely song called ' Children United'
Friday 10th February – Dress to Express
We celebrated the end of our Children's Mental Health Week. It was a lovely celebration of all the work and activities the children have done.
Monday 20th February 2023 – First Week of Lent
The Chaplaincy Team led us in our preparation for Lent as we thought about how we could keep our Lenten Promises and what we can do this Lent to help others. See the PPT the children delivered.