The all-encompassing intent of the curriculum at St. Adrian's is Catholicity.
At St Adrian's, our aims are:
– to provide a Catholic Christian education based on the life and teaching of Jesus Christ, in which the values of the Gospel underpin all aspects of school life
– to provide an environment in which the dignity of each person as a child of God is recognised and developed; and to promote the full potential of each child through a curriculum which develops spiritual, academic, social and emotional growth
– to provide a curriculum which is enriching and challenging, where children experience the opportunity to learn in a wide range of contexts
Our mission –
To Learn, to Love, to Live as a community of God with Christ as our teacher.
Within the love of God our Father, we seek to be a welcoming community, where each person is valued and enabled to grow, where gifts are nurtured, differences treasured and all are cared for. Living, Loving and Learning together in a rapidly changing world, we believe our school is a sign of God's Kingdom of Love, allowing each of us to move confidently into the future with a zest for knowledge, following the path of Jesus in truth and justice and at peace with God and one another. And so, as a community of children, staff, parents and governors, we strive:
To develop and sustain a sense of God's presence in our lives.
To develop self-confidence and independence, with a sense of worth and self-esteem.
To recognise and value all people with their diversity of gifts, cultures and faiths.
To have consideration for others, learning to work together with a sense of social responsibility and compassion.
To help everyone to feel valued and confident as an individual and part of a loving community.
To promote a zest for learning and a passion for life's opportunities.
To become the best that we can be personally and academically.
We work very closely with St Bartholomew's Parish. Children attend mass at least twice a term in school or in Church which parents are warmly invited to attend. As well as a mass at the start of each term, a second mass each term reflects the church liturgical year, including All Saints, Ash Wednesday and Ss. Peter and Paul.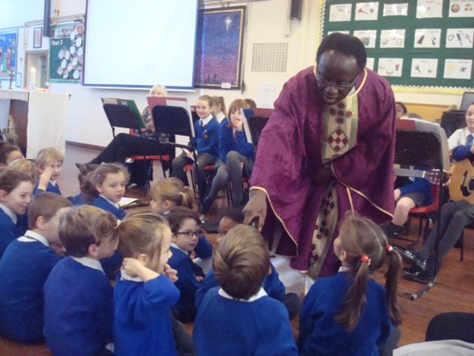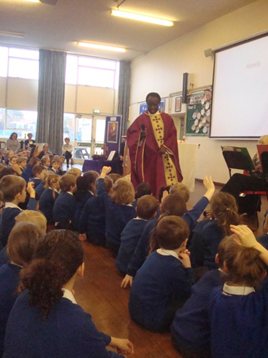 Whereas the content of the National Curriculum subjects is determined by the government, the determination of curriculum content of Religious Education in Catholic schools is determined by the Bishops Conference of England and Wales. At St. Adrian's, RE teaching follows the Religious Education Curriculum Directory.