Our RE topic for the next four weeks is based around the theme of Signs and Symbols.
We will be considering the big question Are signs and symbols important? Why? Please talk about this question with your child, looking for the signs and symbols that the children encounter on the way to and from school.
The children will learn to describe and sequence the baptism service and we will explore the different parts of the sacrament and their significance. We will focus on important symbols associated with baptism, such as the sign of the cross, white garment, font, candle, chrism and Easter candle.
Key words for the topic are: white garment, Easter candle, font, chrism, Good News
Please talk to your child about their own baptism artefacts and how they were used within their baptism.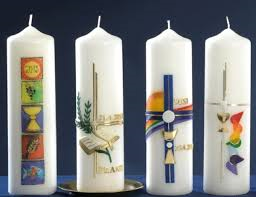 For their RE home learning, the children are asked to design a baptism candle. Encourage your child to think about what signs and symbols they would like to include on their candle. It would be great if your child could write a key to go with their candle, that explains what each of their chosen symbols mean. Please ensure that your child takes pride in their candle as it would be lovely to make a display of them. These baptism candles should be sent into school by Wednesday 3rd November.