Year 6 have been working hard on their learning- they have been developing and writing stories about transporting to new worlds, learning about conjunctions and have been challenging themselves with their reading- asking themselves challenging questions about what they read. May I urge you to hear your child read a variety of sources from newspapers, non-fiction articles and a variety of fiction books and to ask them questions based on their reading. In addition please sign your child's reading record when you do as they are rewarded for your signatures each week. A week's worth of signatures is worth 3 Dojo and House points!
In Mathematics, the children are revising and building on their knowledge of multiplying, in particular using long multiplication. This is focused on in their maths homework. Please have a conversation with your child and ask them to explain to you the link between long multiplication and partitioning. I suggest the children have a notebook for the My Maths homework so they can do the working out in it before they submit their answers. This way if mistakes are made they can see why their mistakes were made.
In RE, we have continued to explore the topic of Loving. We explored the Parable of the Prodigal Son, where the story demonstrates the beauty of God's unconditional love for us- in that He forgives and accepts us as we are, just as the father in the story forgave his son without question. In the picture below, we 'Hot-Seated' the main characters of the story whilst the rest of the class interviewed them about their actions and reasons behind their actions.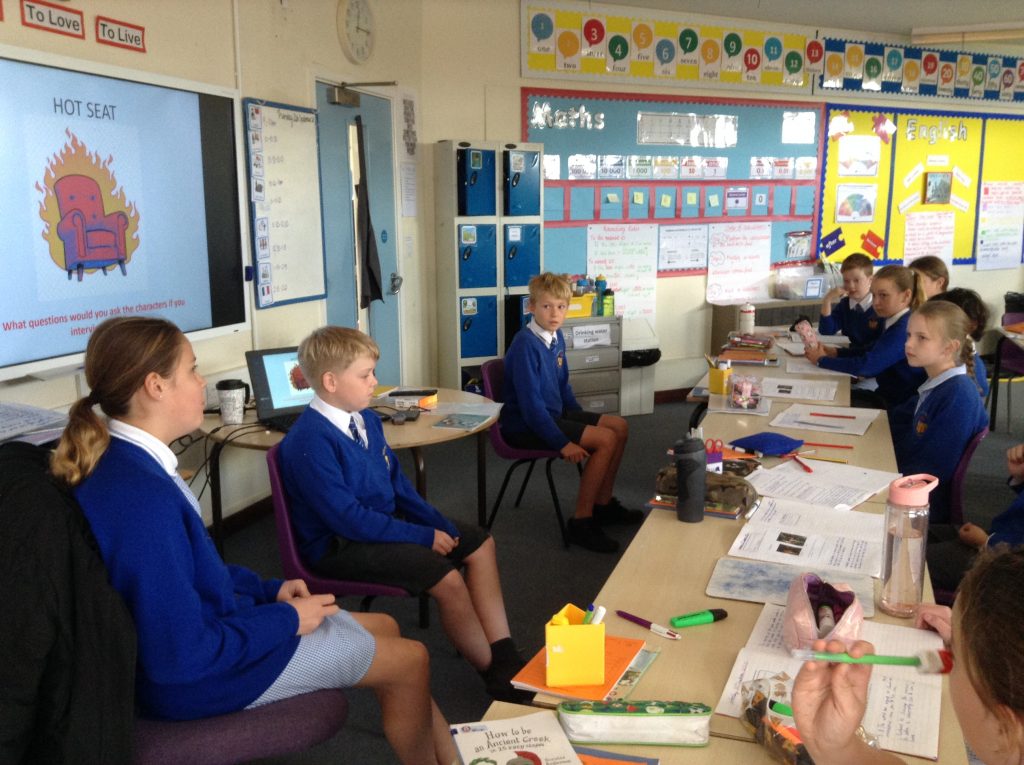 As a follow up for our RE topic, please can I ask that your child writes and illustrates a prayer of thanksgiving recognising God's unconditional love for them and perhaps asking Him to help them demonstrate compassion towards others. This work needs to be handed in by Friday 2nd October where we will collate them into a class prayer book to use in class worship sessions.
I wish you all a lovely weekend,
Best wishes,
Mrs Gallaher